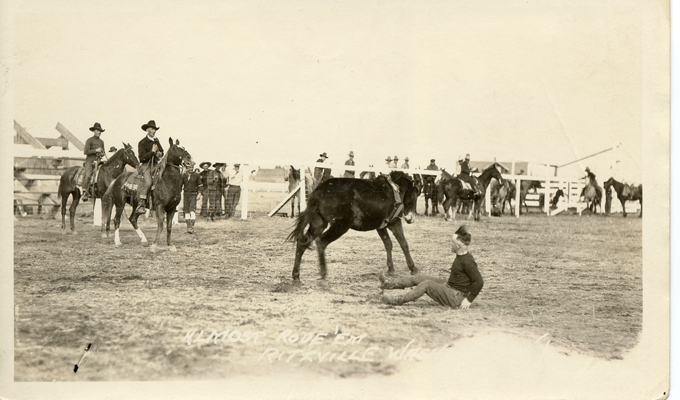 Ritzville Rodeo, Record Series, Photographs, A.M. Kendrick Collection, 1920, Washington State Archives, Digital Archives, http://www.digitalarchives.wa.gov.

When A.M. Kendrick returned to Washington following WWI, he tried his hand at many different professions. He worked as a lumberjack, miner, farmer, and salesman before settling on country photographer. He set up shop in Ritzville, and over the next 50 years amassed one of the largest and most impressive collections of photographs in the Washington State Archives. The collection effectively documents the evolution of a small town from the 1920s to the 1970s.

The above photo shows an unlucky rider in the Ritzville Rodeo c. 1920. A search for "rodeo" in the collection yields a set of photos spanning years from 1920 to 1958. Rodeos were and continue to be major public events for small towns in Eastern Washington. Kendrick seemed to enjoy showing riders mid tumble. Search in the A.M. Kendrick Collection to find other great images.