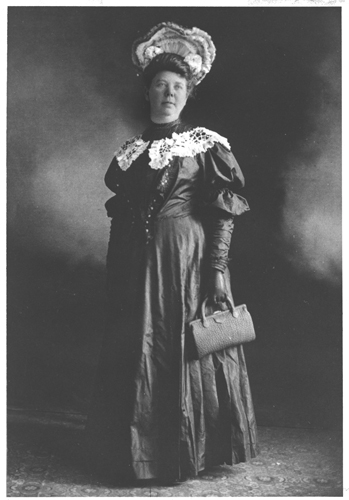 May Arkwright Hutton, Photographs, Spokane City Historic Preservation Office, 1878-1979, Washington State Archives, Digital Archives, http://www.digitalarchives.wa.gov.

Born in 1862, May Arkwright was orphaned at a young age. Raised by her paternal grandfather, Arkwright was exposed to politics early on, attending many political rallies with her grandfather. In 1883 she moved to the Silver Valley of Idaho, where she set up a boarding house and quickly gained a reputation for her cooking. In 1887, she married Levi Hutton and the two moved to Wallace, ID and invested in a local mine. The couple was known for their politics, focusing on labor rights and women's suffrage.

When the couple struck it rich in 1901, they moved to Spokane, WA. After losing the right to vote in the move, May Arkwright Hutton became passionately involved in the Washington suffrage movement. Her work on women's rights gained her national recognition. As an outspoken Democrat, Hutton served as a delegate for both the State Democratic Convention in 1910 and the National Democratic Convention 1912.

Suffering from Bright's Disease, May Arkwright Hutton passed away in 1915. In her honor, Levi Hutton established the Hutton Settlement, a self-sufficient home for orphans. The Hutton Settlement still exists today. May Arkwright Hutton's efforts not only helped secure the vote for women in Washington (1910) and Idaho (1896), she was one of the many women dedicated to equality in the United States.

You can find a portrait of May Arkwright Hutton in our Spokane Historic Preservation Office Photograph Collection, and a 1910 Spokane Census record of Levi and May Hutton on the Digital Archives website.