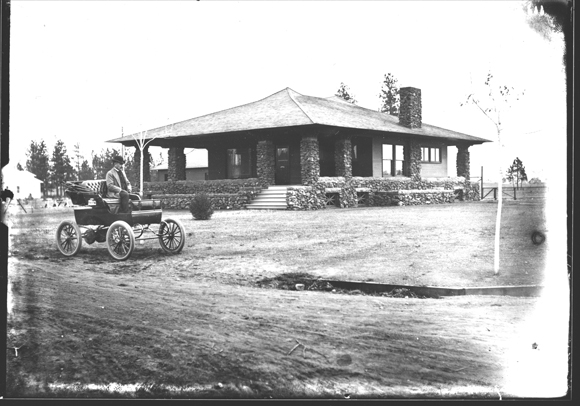 George W. Fox in front of Fox House, Photographs, Spokane City Historic Preservation Office, Washington State Archives, Digital Archives, http://www.digitalarchives.wa.gov.

The first automobiles were often called "horseless carriages," and you can see why in this Spokane photograph from about 1903. In those days owners could choose steam, gasoline, or electricity to power their newfangled vehicles. There was little infrastructure to provide gasoline, and steam engines were slow to warm up, so many people with access to electricity chose electric cars. The availability of electric cars was due to Nikola Tesla and Thomas Edison's work with alternating and direct current electricity, and Gaston Plante's work on rechargeable batteries. By 1911 almost 30% of all the cars on the road were electric.

The owner of this car, George W. Fox was a proprietor of the Los Angeles Wine Company. He did business in Spokane for years before he built his home at 525 W. Waverly Place, across from Spokane's Corbin Park in 1902. Fox moved to California by 1907, but the home pictured here still stands and can be seen in Google Street View. This photograph comes from the Spokane City Historic Preservation Office's Photographic Collection, which includes over 550 photographs of the Spokane area.