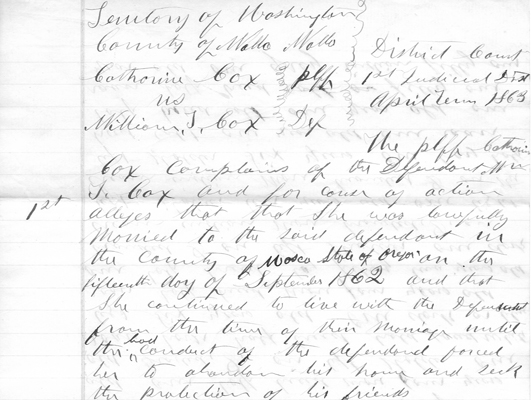 Page 1 of Frontier Justice Divorce Case Cox v. Cox, WAL-719, Frontier Justice, Walla Walla Frontier Justice, Washington State Archives, Digital Archives, http://www.digitalarchives.wa.gov.

Life in Washington Territory could be rough. As Americans moved west, they brought with them problems that only the legal system could settle. The court cases that pertain to these territorial legal matters are indexed in our Frontier Justice Collection at the Digital Archives.

Marriage on the frontier could be as tumultuous as anything you see on reality television today. In the case of Catherine and William Cox, an affair caused their break-up. According to the court records, Catherine Cox was an "affectionate and obedient wife and did what was in her power to promote his happiness and interests." When she discovered her husband was having an affair with an Indian woman, she tried her best to be a dutiful wife. After several months, Catherine claimed she had been driven from their home, and could no longer endure their affair. The court sided with Mrs. Cox, awarding her ownership of the couple's horses, and $500 in alimony.

This divorce case is typical of the marital disputes one can find in Frontier Justice cases. Adultery and abandonment were the two most common reasons for divorce in Territorial Washington. For more on Washington's Frontier Justice explore our collection. With a few exceptions, most of these court cases have not yet been digitized; instead you will find an index to the case records including names, dates, case types, and information on how to access the originals at a Washington State Archives facility.