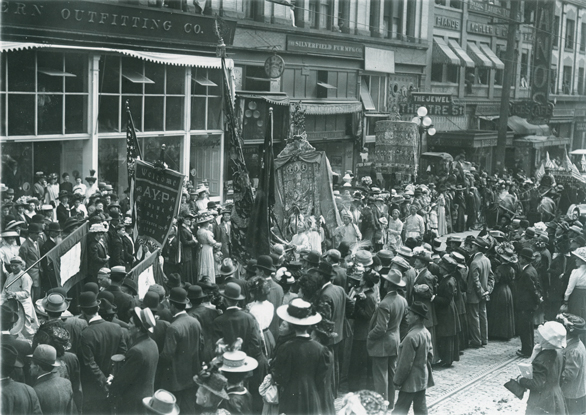 China Day Parade, Alaska-Yukon-Pacific Exposition, Seattle, Photographs, State Library Photograph Collection, 1851-1990, Washington State Archives, Digital Archives, http://www.digitalarchives.wa.gov.

Theatrical Mechanics Association Day, National Funeral Directors Association Day, Washington Rural Letter Carriers' Day, even Cactus Day. These were just a few of the commemorative days at the Alaska-Yukon-Pacific Exposition held in Seattle from June through October, 1909. The Alaska-Yukon-Pacific Exposition (or AYP) was the 1909 World's Fair, highlighting Seattle as the gateway to Alaska, Canada, and the Pacific Rim. Washington's first World's Fair, the AYP was held on the University of Washington's campus in Seattle. The famous Olmsted Brothers designed the fairgrounds that attracted 3.7 million people from across the country and the world. Many of the buildings were built to be temporary but there is still evidence of the fair on the University's campus. The Geyser Basin, now known as Drumheller Fountain is a survivor of the 1909 fair.

Special celebration days were created to maintain public interest in the months-long fair. Pictured above is China Day, held September 13th, "The big hit of the parade was the 150 foot-long dragon," the Seattle Times reported, "It sat on the shoulders of fifty men." The Chinese Village and parade were not sponsored by the government of China but by Seattle's community of Chinese immigrants. Local businessman, Ah King, organized the construction of the village, with community members donating $4 apiece. The Chinese Village eventually contained three buildings: a theater, a temple, and a restaurant. Traveling from China, the Tin Yung Qui Troupe put on daily performances in the theater that included acrobats and stage magicians, a fan favorite.

You can find this image as well as others of the A-Y-P Exposition in the State Library Photograph Collection, 1851-1990.