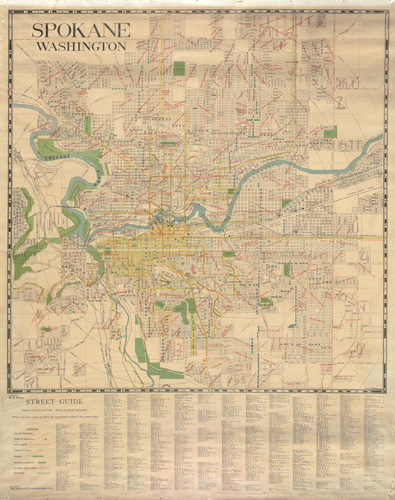 AR-270-B-001096, Spokane, Washington, Emil H. Ortman, General Map Collection, 1851-2005, Washington State Archives, Digital Archives, http://www.digitalarchives.wa.gov.

This beautiful 1922 map of Spokane provides a wealth of information about the city in the early years of the twentieth century. All of the typical information is provided including street names and the general city layout, but what makes this map special is the inclusion of so many additional points of interest. Fire stations, schools, and parks are noted throughout the city. So are bridges, railroad lines, streetcar lines, paved streets, sewers, and addition names.

Notice some things missing? The city has changed greatly over the past ninety-three years. In place of the ubiquitous I-90 which now slices the city in half was Highway 2, the "Sunset Highway," which offered a more leisurely route from Seattle to the Idaho State Line. Another highly traveled road, Maple Street, had yet to connect across the river. Those thin red lines running through the streets denoted where the trolley lines ran, it is interesting to note Spokane's extensive public transportation system in 1922. There are still a few places in Spokane where short stretches of metal trolley track peek through the concrete.

Having access to all of this information on one map is a significant benefit to researchers and will be a boon in the future. You can see this map and more than 2,000 others in the General Map Collection, 1851-2005.