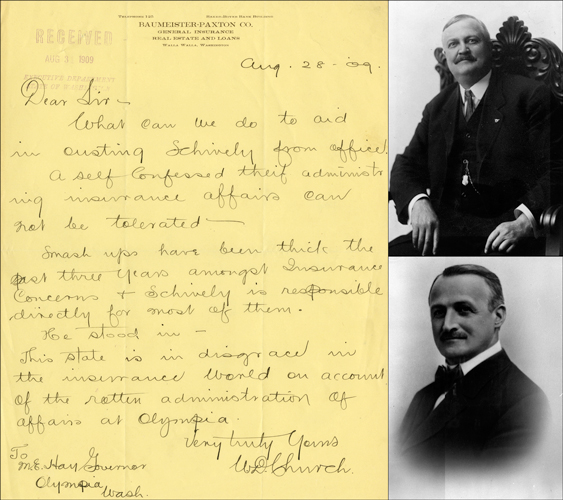 Clockwise from left: Letter to Governor Hay from W.D. Church, partner at Baumeister-Paxton, Walla Walla, asking what he can do to "aid in ousting Schively from office", August 28, 1909, Governor Marion E. Hay Papers, 1909-1913, Washington State Archives. Governor Marion E. Hay, ca 1909, Susan Parish Photograph Collection, 1889-1990, Washington State Archives. Insurance Commissioner John H. Schively, 1909, General Subjects Photograph Collection, 1845-2005, Washington State Archives.

With impeachment in the news lately, Archives has received inquiries regarding this subject in Washington State. We're reminded of the seldom heard story of Washington's first impeachment trial in 1909; against Insurance Commissioner John H. Schively. Even today, the Schively story provides insight into impeachment, insurance law, and the evolution of Washington's political climate.

John H. Schively came to Washington as a newspaperman, and was elected to the legislature in 1894. There he won the title "Webster of the house" for his power of speech. While the Insurance Commission was a sub-agency of the Secretary of State's Office, Secretary of State Sam Nichols appointed him deputy insurance commissioner in 1901. Once the position became an elected office, Schively ran and won the title of Insurance Commissioner.

Governor Marion E. Hay spearheaded an investigation into Schively's activities, which led to impeachment charges that Schively extorted money from insurance companies that wanted to do business in Washington. During the trial, over 150 insurance companies testified that they were required to pay up to $500 on top of regular filing fees in order to receive authorization to sell insurance in the state. Ultimately, more than $25,000 in excess fees were collected, and neither Secretary Nichols nor Commissioner Schively had record of how the money was spent.

Proceedings lasted 2 weeks, and Schively testified on his own behalf for over 10 hours. Much of his defense claimed that he was acting under the direction of Secretary of State Nichols. Additionally, he claimed that his understaffed office dealt with badly defined insurance laws (for which he blamed the legislature), which caused them to act creatively when problems arose.

Washington's constitution dictates that it is the duty of the House to impeach the accused, the Attorney General to do prosecution, and the Senate to act as court of impeachment. The final determination of innocence or guilt would depend upon the vote of the senate, with a two-thirds majority of all the members required for conviction and removal from office. In the Schively case, the House voted unanimously to impeach him, but the Senate failed to get the needed votes to convict him.

Many changes were directly inspired by the trial: Travel expenses are to be paid out to the state's general fund directly to the official or employee concerned; the cost of auditing insurance companies is to be borne by the state; and no insurance company can begin operations in the state until an examination had been carried out.

You can peruse the Archive's collection of documents, publications, and photographs documenting the Schively case by clicking "Browse this series".