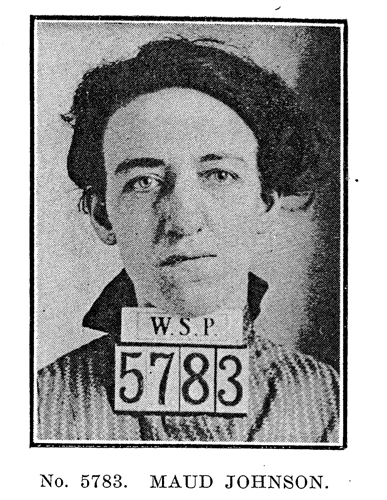 Walla Walla State Penitentiary, Wanted: Escaped Prisoners from the State Penitentiary, 1913, Penitentiary, Washington State Collection, Washington State Archives, Digital Archives, http://www.digitalarchives.wa.gov.

In a recent treasure, "Wanted: Escaped Prisoners from the State Penitentiary, 1913" we showcased a state-issued publication that catalogued escaped prisoners. One of the escaped prisoners on page 95 caught our attention: Maud Johnson, the sole female escapee. We did a little digging into Maud's story, and found a colorful character who lived outside the law.

Maud Johnson was the most infamous female con artist of her time. Known by lawmen, insurance agents, and journalists as the "Accident Woman" and the "Queen of Fakirs," Johnson swindled 19 railroad companies out of an estimated $200,000. Maud was an expert injury faker. She would wait for a train to make a sudden stop and would then throw herself on the ground. Between her cries of agony and fake blood, station agents would hurriedly pay her for her sham injuries, hoping to prevent the bad publicity of a lawsuit. One source claimed "she could throw her joints out of place, tear ribs loose, and cough up blood at will." She was so prolific that an association of insurance agents called the Pacific Claim Agents' Association was founded in the hopes of catching her as she moved from town to town.

In fact, Maud seemed to be just as prolific at conning judges and governors into early releases, pardons, and special treatment. After the long-awaited apprehension of Maud in 1909 she was sentenced to serve 5 years in the Walla Walla State Penitentiary. Just two years after her sentencing Maud mysteriously secured a conditional pardon from Marion E. Hay the Governor of Washington from 1909 to 1913. As you might imagine, Maud quickly fled and violated the conditions of her parole. This is just one of multiple instances in which Maud seems to manipulate the legal system to her benefit. A commitment register from her sentencing and the details of the pardon can be found at the Archives, in Olympia.

Maud's story is just one of the many that could be told about the men and women in "Wanted: Escaped Prisoners from the State Penitentiary, 1913". You can find commitment registers about most of these criminals in the Institution Records series at your Washington State Archives.