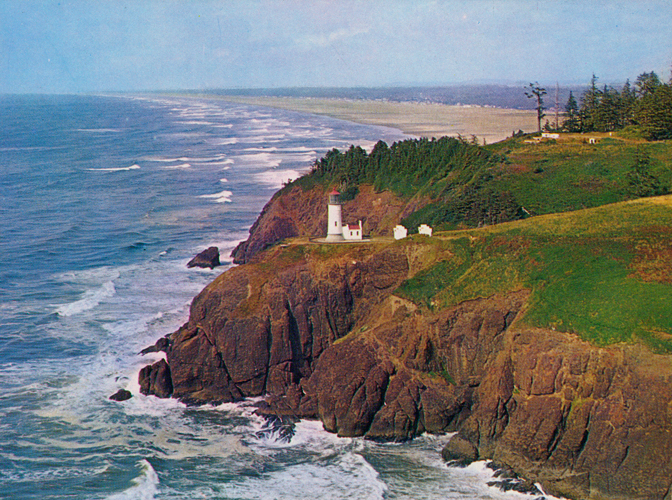 North Head Lighthouse, General Subjects Photograph Collection, 1845-2005, Washington State Archives, Digital Archives, http://www.digitalarchives.wa.gov.

The Columbia River is one of the largest in the United States in terms of both length and volume of water. The river provides an inland port some 300 miles from the Pacific Coast at Lewiston, Idaho. While the Columbia River is incredibly valuable for cargo transportation it can be a sailor's nightmare. The most dangerous portion of the river is the mouth at the Pacific Ocean. Many ships have sunk here earning this location the title "Graveyard of the Pacific."

An estimated 2000 ships have sunk at the mouth of the Columbia River since 1800. Sailors rely on a number of different navigation tools to overcome the unforgiving conditions. Since May of 1898 sailors entering the Columbia have depended heavily on The North Head Lighthouse in Ilwaco, Washington. Along with its counterpart Cape Disappointment Light, North Head Light made navigating into the Columbia safer and more feasible. In an era before satellite positioning systems the lighthouses helped sailors identify the dangerous geographic features that could sink their ships.

Even today the river is so treacherous that some captains do not trust themselves to navigate into the river. Instead they call on a group of highly skilled navigators that offer a piloting service in which they board vessels, often by helicopter, at the captain's request and guide the vessel safely into the Columbia River. The Board of Pilotage Commissioners in Washington State oversees and regulates Washington's river pilots. If you want to learn more about the river pilots, their annual reports are available on the Digital Archives.

Find more photographs of North Head Light and other lighthouses in Washington State by searching "lighthouse" in the keyword search at your Washington State Archives.