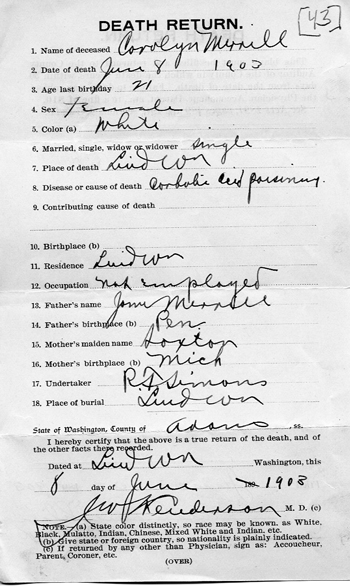 The 1903 Death Return for Carolyn Merrill hints at the tragedy that ended her short life. Death Records, Adams County Death Return, Washington State Archives, Digital Archives, http://www.digitalarchives.wa.gov.

In 1903, it was not uncommon for people to die at a young age, even in the peaceful farming community of Lind, Washington. Yet something about this death return, for 21-year-old Carolyn Merrill, caught the eye of the archivists at the Washington State Archives, Digital Archives. Take a moment and look closely--can you spot it?

The cause of death is listed as "carbolic acid" which was often employed as means of suicide in the 19th and early-20th century. A quick search in the Google News Archive turned up the whole sad story. "Rejected Girl Ends Her Life," blares a headline in the June 11 Spokesman-Review, "Parting Talk to Lover, Then Carbolic Acid." It seems Merrill had been engaged to local tavern owner Joe Naffziger. He had broken off the engagement the night before. The story is poignant: "The young woman spent the night grieving for the love she had lost. On her person were found letters of farewell to Naffziger and her brother, saying that 'she could not live without Joe's love,' and begging God to forgive her for the deed she was about to commit."

Many early death records hint at larger stories, whether it is "Unknown, run over by a train," or "Chinaman Jim," who died at the Eastern Washington Hospital for the Insane in 1892. They are all part of the story of our state, preserved by your Washington State Archives.