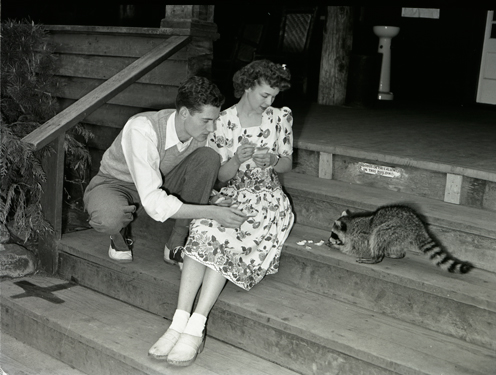 Feeding a raccoon, circa 1940. The Washington State Archives would like to remind you not to feed the raccoons. Progress Commission Photographs, 1937-1945; Washington State Archives, Digital Archives, http://www.digitalarchives.wa.gov.

Now here is a fun collection! The Washington State Progress Commission was created in 1937 to promote tourism and economic development in the state. The 500 black and white images in this series date from 1937 to 1945, and were used to promote tourism in Washington. These charming retro images show happy Washingtonians across that state-- a couple enjoying drinks on the beach, a man getting a haircut , skiers fooling around on Mount Rainier , Native American women drying animal skins , haying with horses , the famous Kalakala ferry , and this pair of bathing beauties.

Explore this collection here, and enjoy! These photographs belong to the citizens of Washington State, the Washington State Archives preserves and protects them for your benefit.