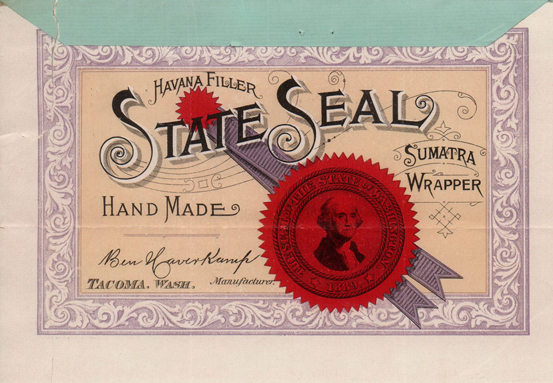 State Seal, Secretary of State, Corporations Division, Trademarks, 1895, Office of the Secretary of State, Washington State Archives, Digital Archives, http://www.digitalarchives.wa.gov, accessed 2/4/2013.

The Digital Archives recently added Trademark Records to its online collections thanks to the efforts of the Corporations Division of the Office of the Secretary of State. A trademark, according to the United State Patent and Trademark Office, is a brand name, unique word, name, symbol, device, or any combination that identifies and distinguishes a product or service from other products or services. The records include applications and samples of the trademark like the image included above for State Seal Cigars manufactured in Tacoma, Washington. Other documents in this collection include reservations, assignments, amendments, and renewals.

Take a moment to keyword search the collection for items like burgers, sports, apples, or pop. Search by date using the mm/dd/yyyy format, or choosing a date span is another interesting way to look at this collection. Trademarks can be registered federally and are usually registered in each state the product or service is sold or used. Once a trademark is registered, the registered user is protected against infringements upon the user's rights. For more information about Trademark Registration please look at RCW 19.77 or go to Trademarks on the Washington Secretary of State's website under Programs and Divisions. For help searching this collection or other questions concerning the Digital Archives please email digitalarchives@sos.wa.gov.