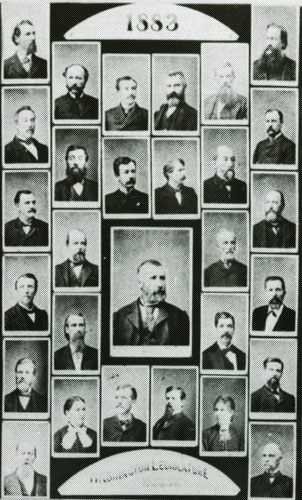 Washington Legislature: House, 1883, Photographs, House of Representatives Group Photos, 1883-1981, Washington State Archives, Digital Archives, http://www.digitalarchives.wa.gov

Looking through the House of Representatives Group Photos, 1883-1981 collection, one might notice the curious presence of women in the 1883, 1885, and 1887 photos of the territorial house legislature. Were there women legislators in the territorial period? The appearance of women in these photos, and their subsequent absence following Washington statehood in 1889 might seem to indicate that these women served in elected office. A little research, however, reveals that the pictured women served as clerks. The two women featured in the 1883 image are Cordelia Newton of Chehalis County and Luella McMillan of Pierce County.

Washington almost made history by passing women's suffrage as early as 1854, but the measure was defeated by just one vote. In 1883 women were finally granted suffrage, but the bill was overturned by the territorial courts in 1887. Another attempt was again overturned the following year. It was not until 1910 that women secured voting rights by way of amendment to the Washington State Constitution, a decade before the 19th Amendment granted suffrage nationally. The 1912 elections saw the addition of two women legislators to the Washington House of Representatives, including one Frances Cleveland Axtell. Axtell, a progressive pro-labor Republican, failed in her 1916 bid for the US Senate by a mere 3,000 votes. She would have been the first female U.S. Senator. Today, women make up one hundred percent of Washington's senatorial delegation to the Federal Government. Washington State is rated high in women's participation in the legislature; due in part to the trailblazers of the state's early history. More photos of Washington's House of Representatives can be found here.