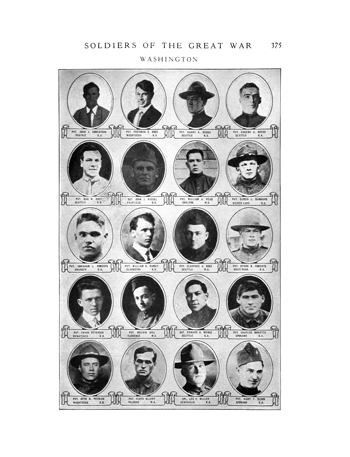 Soldiers of the Great War, Washington, Vol. 3, page 375, Soldiers of the Great War Casualty List, Military Records, Washington State Archives, Digital Archives, http://www.digitalarchives.wa.gov.

It was November 1918, and Harry E. Requa of Seattle, along with the rest of the 361st infantry regiment, 91st division, moved from building to building in the Belgian town of Audenarde capturing German troops and weapons stockpiles. The 91st was tasked with assisting King Albert of Belgium in freeing the northwest of his country from a long German Occupation in what would later be known as the Ypres-Lys campaign. Requa's unit faced artillery and snipers as it carried out its mission, and at some point on November 2nd 1918, he was killed in action. The Armistice which ended the war occurred a mere nine days later, making Requa one of the last casualties of WWI.

From 1917 to 1918, over one hundred thousand Americans fell in battle against the central powers of Germany and the Austro-Hungarian Empire, over two thousand from Washington State alone. The Soldiers of the Great War Casualty List at the Washington State Archives keeps a record of the names and pictures of the fallen. The Archives also hosts the Department of Veterans' Affairs, World War I Service Statement Cards, 1917-1919 and the Spokane County WWI Soldiers Miscellaneous Lists, both of which further detail the stories of individual Washington veterans. Such records are excellent for genealogical research and general family history, but we also hope to shed some light on a pivotal, yet often overlooked era of American history.