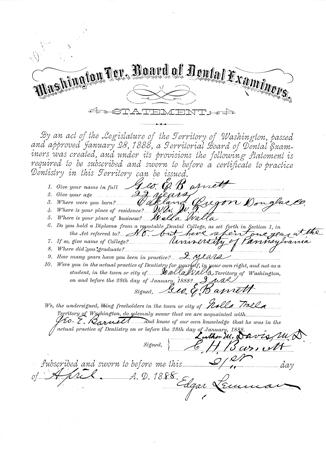 George Barnett, Professional License Records, Department of Licensing, Business and Professions Division, Dental License Applications, 1888, 1909-1936, Washington State Archives, Digital Archives, http://www.digitalarchives.wa.gov.

In 1888, the Legislature of Washington Territory passed an act to create the Territorial Board of Dental Examiners. Until that time, it was simply a matter of hoping for the best when going under the dentist's drill. Many dental practitioners of the 19th century, such as Walla Walla resident George E. Barnett seen above, practiced without a license or any formal education. Barnett lists an apprenticeship of one year at the University of Pennsylvania as his official training. As proof that he had been in practice for two years, Barnett provides witnesses, including one L.H. Barnett, very likely a close relative. The Dental License Applications, 1888, 1909-1936 collection is a fascinating little piece of early Washington history, useful for genealogy or general interest.

Aside from official government regulations, the 1880s also brought into practice the principles of cavity cutting, crowns, and the electric drill. Local anesthetics however, were still quite rare. In 1884, dentists finally found a concoction that could easily be used as a local anesthetic when pulling teeth. The miracle drug in question? Cocaine.