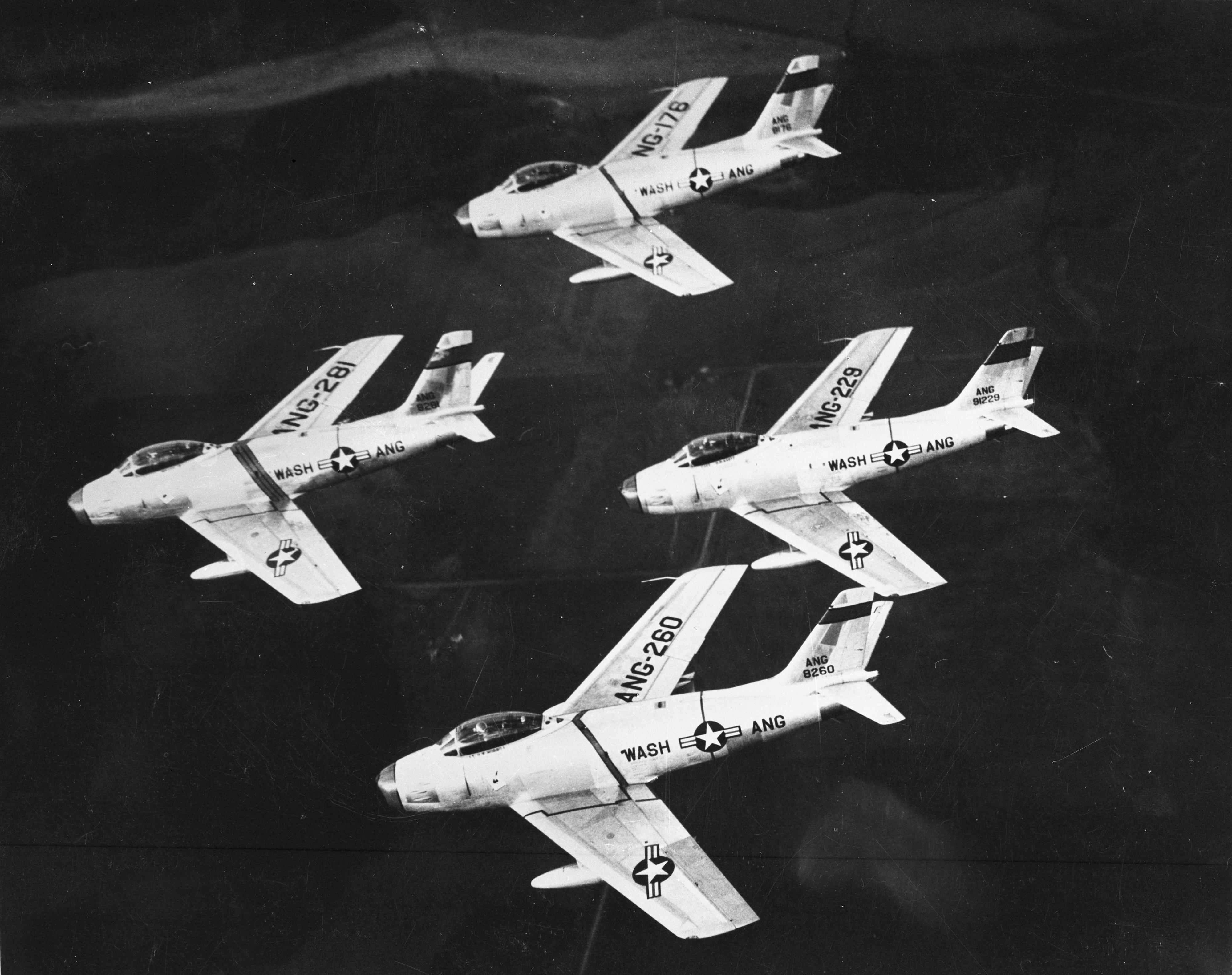 Washington State Air National Guard Sabers in Formation
The Washington Air National Guard hasn't always flown the grey clad tankers and transports out of what is now Fairchild Air Force Base in Spokane County, Washington. Silver interceptors used to roar out of the base to protect the Pacific Coast from the Soviet threat. This photo shows the F-86 Saber, one of the many aircraft flown by the 116th over the years.
Established in 1924 as the 116th Observation Squadron, it is one of the oldest recognized National Guard units in the United States. A competition between Seattle, Tacoma, and Spokane was held to see which city could raise $10,000. The winner would receive the squadron. The mayor of Spokane immediately sent a telegraph saying the city had the $10,000. Construction of the hangars began in 1925, and by 1926 the unit was designated the 116th Observation Squadron. The 116th Observation Squadron was a key participant in the construction of the Grand Coulee Dam. They flew observation missions along the Columbia River and provided key intelligence to engineers and geologists working on the project. During the Second World War the unit was moved to Gray Field at Fort Lewis in Tacoma to fly anti-submarine patrols along the Pacific Coast.
When the war ended, the 116th returned to Spokane, flying new P-51 Mustangs and later new F-86 Sabers. In 1976 the 116th joined Strategic Air Command, became the 141st Air Refueling Wing, and transitioned to the KC-135 Stratotanker, prompting the move to Fairchild Air Force Base. This ended the unit's thirty year history in interception, and began a new era of mobility that has taken the 141st around the globe.
You can see this image and many others in the Military Photograph Collection, 1890-1975.
Written by Sam Wilson