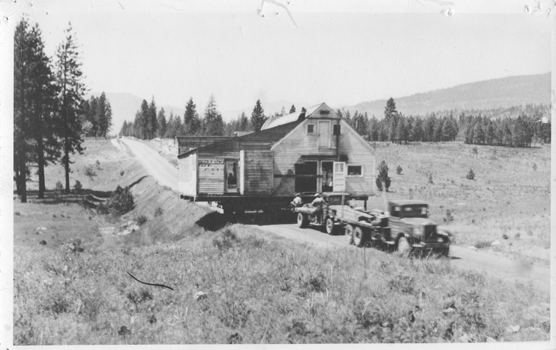 Truck Towing House on Trailer, 1900-1940, unknown photographer, scpa00800001032, Kettle Falls History Center Photographs, Crossroads on the Columbia Collection, Washington State Archives, Digital Archives, http://www.digitalarchives.wa.gov.

Link to photo: http://www.digitalarchives.wa.gov/Record/View/92F2AB61318ACA3B9E87FFDE0FD16482

This house moved slowly up the hill to avoid the flooding waters of Lake Roosevelt. In mid-1941 the waters of the Columbia River began to rise behind the Grand Coulee Dam, covering the arid landscape with hundreds of feet of water. The filling of the reservoir behind the 550 foot Grand Coulee Dam forced every animal, plant, and human that called the river banks home to relocate and change their way of life.